The Basics of Interior House Painting
Nothing lasts forever – styles, fashions, trends, and decisions you might have made years ago about your interior house painting. Indoor walls, cabinets, and doors don't need repainting as often as home exteriors; nevertheless, interior paint can become dull, fade, and show signs of wear and tear. You could also just be ready for a change! Interior house painting is one of the easiest and cheapest ways to make a quick impact on your space.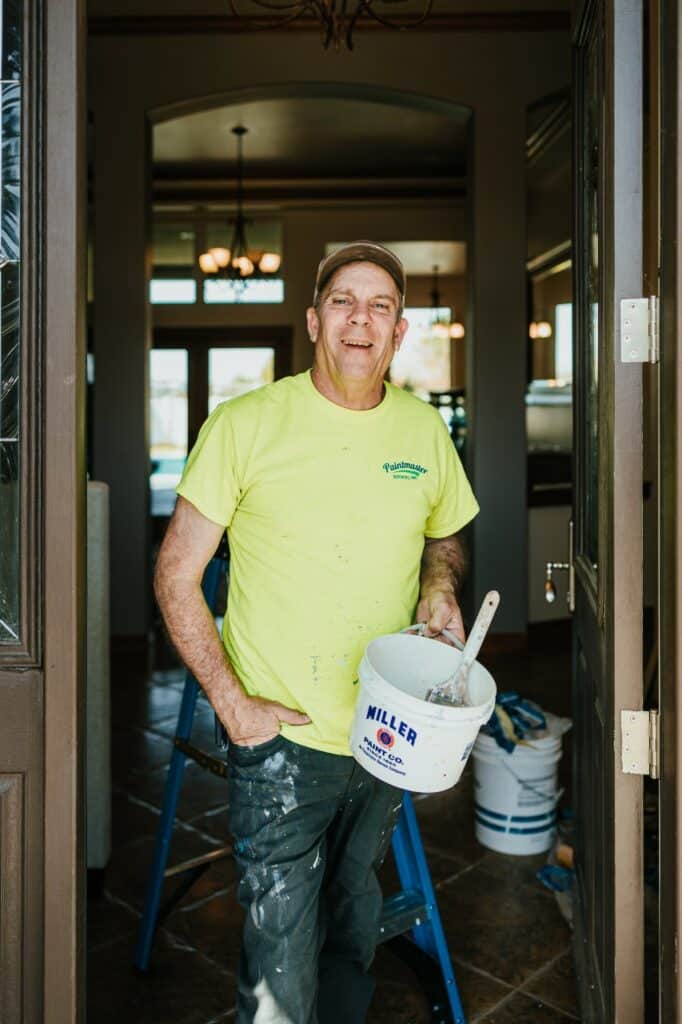 Why Should You Repaint the Interior of your House?
There are many reasons why you should change your interior paint. Professional painters recommend a fresh coat of paint every three to seven years, depending on the area, its uses, and functionality.
Refresh or Change Your Aesthetic
Repainting is one of the easiest and cheapest ways to change up your home. You can repaint to refresh your space – make your whites whiter or give your colors a facelift. Paint can also dramatically change the look of a room. Even painting one wall as an accent can alter the entire aesthetic.
Paint Conceals Wear and Tear
Our homes are our sanctuaries, but at the same time, we do live in them. Our interior paint goes through natural wear and tear as dwe go about our day-to-day lives in them. Not even the best quality paint lasts forever, and it certainly isn't damage-proof. Nicks, scratches, and dents are common from moving furniture, being clumsy, hanging pictures, high foot traffic, and heavy use. If you have kids, you know you have more than your share of damage! A fresh interior house painting job will cover these imperfections easily.
Create a Dramatic Effect
Paint is often the first thing that catches the eye when entering a space. If you want to create a new, dramatic look, the quickest and easiest thing to change is the paint. Paint color choices are nearly unlimited, and different color combinations can accent one another. Additionally, paint can create special effects such as distressing, rolling and ragging, glazing, sponging, dragging, and graining. The opportunities for a unique flair are only limited to your creative vision!
Prepare to Sell Your Home
If you are looking to sell, one of the first things that realtors recommend is to repaint your home from top to tail. A fresh coat of paint makes a space feel brighter and is the fastest way to give it an updated feel. Neutral colors provide a clean and airy atmosphere to a home and make it easier for potential buyers to imagine their lives in the space. Repainting can help sell your home faster; read up on the best paint colors for selling here!
Increase Your Home Value
Even if you aren't thinking of selling right now, research shows that regular interior house painting improves the value of your home. Repainting is considered an investment in the upkeep and maintenance of your house. Ultimately, it will provide a return on your investment to keep your house fresh!
What Types of Interior House Painting Make an Impact?
So, now you know why a fresh coat of paint is essential. However, what kind of surfaces should you be looking at repainting? Check out some of Paint Master Service's painting specialties and services.
Cabinet Painting
Kitchen renovations are the highest budget remodels in the whole house. If you want to update your space, save on buying new cabinets by painting your kitchen cabinets. It is possible to use high-quality brushes and repaint your cabinets yourself. We want to note, however, that the type of aesthetic you are aiming for will determine what paint finish you select. For the smoothest-looking cabinets, professional painting is the way to go.
Door and Trim Painting
You can paint doors with any finish of your choosing; however, glossy finishes are the most popular. Painting doors and trim with a high sheen helps them stand out, highlighting these beautiful architectural features. Doors and trim are both heavily used objects – the vacuum runs into them, you kick them, and they are constantly getting nicked and scraped. A high gloss paint finish lasts longer under this kind of wear and tear. Due to their increased use, it is prudent to repaint your trim and doors often.
Wall Painting
When you think of interior house painting, the first thing that comes to mind is painting your walls. Wall painting can be one of the most uncomplicated paint jobs for DIY-ers and beginners, but it can also be one of the most time-consuming. Cleaning, taping, priming, trimming, and rolling several coats of paint can all take hours, if not days or weeks, of your time, depending on the size of your space.
Ceiling Painting
Painting a ceiling might be one of the most perplexing and logistically difficult types of interior house painting. You must remove the furniture and cover the floor with drop cloths. Use painter's tape to cover the crown molding and top of the walls to ensure your paint doesn't splatter down onto other surfaces. Priming and rolling the ceiling can be done with an extension pole, but cutting in must be done atop a ladder. If you don't feel up to the job, this one might be best to hire a pro! If you have vaulted ceilings, we recommend always using a professional due to increased DIY accidents when you add extensive height.
Wood Staining
Although staining is not technically painting, much of the technique is similar. Wood must be freshly sanded and spotlessly cleaned before the stain is applied. Often, a couple of layers of wood stain and a few layers of sealant are needed. Unlike interior house paint, wood stain doesn't cover up imperfections – it exaggerates them. The trickiest part is the art of making correct, even applications throughout your space.
How Can Paint Master Services Help?
At Paint Master Services in Tri-Cities Washington, we do it all. We provide each of the painting services listed above and a multitude of others! We use our years of experience to help guide you in the best direction for your home's needs. Call us or visit our website today for a free estimate for interior house painting. We are excited to help you with your next home project!