Dingy, old, and cracked paint is a clear sign of a building in great need of some tender loving care. Depending on the material of the structure, exterior paint will last between three to ten years, meaning that even buildings that are relatively new can look downright haggard if the paint is failing. Fortunately, a new paint job can make a building looks spick and span in just a few days, keeping a beautiful appearance for years to come.
The Benefits of Exterior Painting
Exterior painting projects add vitality and lush color to any structure, providing a new, aesthetically pleasing appearance. If you are considering a residential project, exterior painting can quickly add value to the home, make the home appear years younger, and draw in potential buyers. 
If you are a business owner debating a commercial exterior painting project, an excellent paint job can go a long way for your business. Not only will it make your building appear newer, cleaner, and well-kept, but it will inspire confidence and loyalty in customers that it is a high-quality business with long-term goals.
However, painting projects of any kind are no small feat. They take considerable planning and consideration to ensure the greatest return on investment. If you have been wondering when is the best time of year for exterior painting, we have laid it out season by season.
The Best Seasons for Exterior Painting
Early Fall
Contrary to popular belief, summer is not the best time for painting here in the Tri-Cities. With most oil-based exterior paints having an application range of 40 degrees to 90 degrees Fahrenheit, it limits the painting season depending on the region.
For those living in the Tri-Cities of Washington, our summers can be absolutely scorching. Therefore, it is highly recommended to schedule your exterior painting projects during the early autumn before the temperatures drop and the rain comes back.
Springtime Painting Projects
Spring lands as the second best season for exterior painting projects. Due to the warming temperatures, it is recommended to aim for late spring to avoid spring showers and the oncoming heat of the summer.
However, it is essential to note that rain and paint don't mix. When scheduling an exterior painting project, you will want two to three consecutive warm, dry days to be predicted. If a storm does roll in, you will need to wait at least a day for the surface needing to be painted to dry.
Keep in mind that large projects, such as expansive commercial exterior painting projects, may need five or more days of good weather. We advise speaking with your painting specialist to get an estimate of how long the project will take so you can schedule correctly.
Summer Season
Unfortunately, while the weather may appear beautiful to most, high temperatures and paint are a poor duo. When the temperature is too high, it causes paint to dry too quickly. When this happens, paint can form bubbles, blisters, and maybe even peel! Depending on how the summer rolls, you may be able to get an exterior painting project in if you have a few cool days.
Winter Warnings for Outside Painting
Tackling an exterior painting project in the winter comes with a hardy list of warnings, which is why it sits as the last season on the list for painting. However, keep the following in mind if you cannot avoid it.
Don't let the paint get cold
Winter typically means outside temperatures have dropped, especially here in the Tri-Cities. If the temperature gets too cold for the paint, it will thicken. Thick paint can be challenging to work with, and the results often display inadequate uniformity, spitting, and film cracking.
Purchase cold-resistant paint
One way to prevent paint from getting too cold is to purchase cold weather paint. Cold weather paint is moisture resistant and can be applied at a much lower temperature than standard paint, even down to 35 degrees Fahrenheit.
Paint from 10 to 2
With or without cold weather paint, 10 am to 2 pm are the warmest times of the day, making it the prime opportunity for winter exterior painting. We recommend getting set up before 10 am and having the last coat of the day done by 1:30. pm
Consider using a space heater
If you are still sitting below 35 degrees Fahrenheit, no amount of cold weather paint or sunshine will make your exterior painting work. If you are stuck in this scenario, we recommend enclosing a painting zone and setting up a space heater. Remember that the paint will need to fully dry before removing the space heater.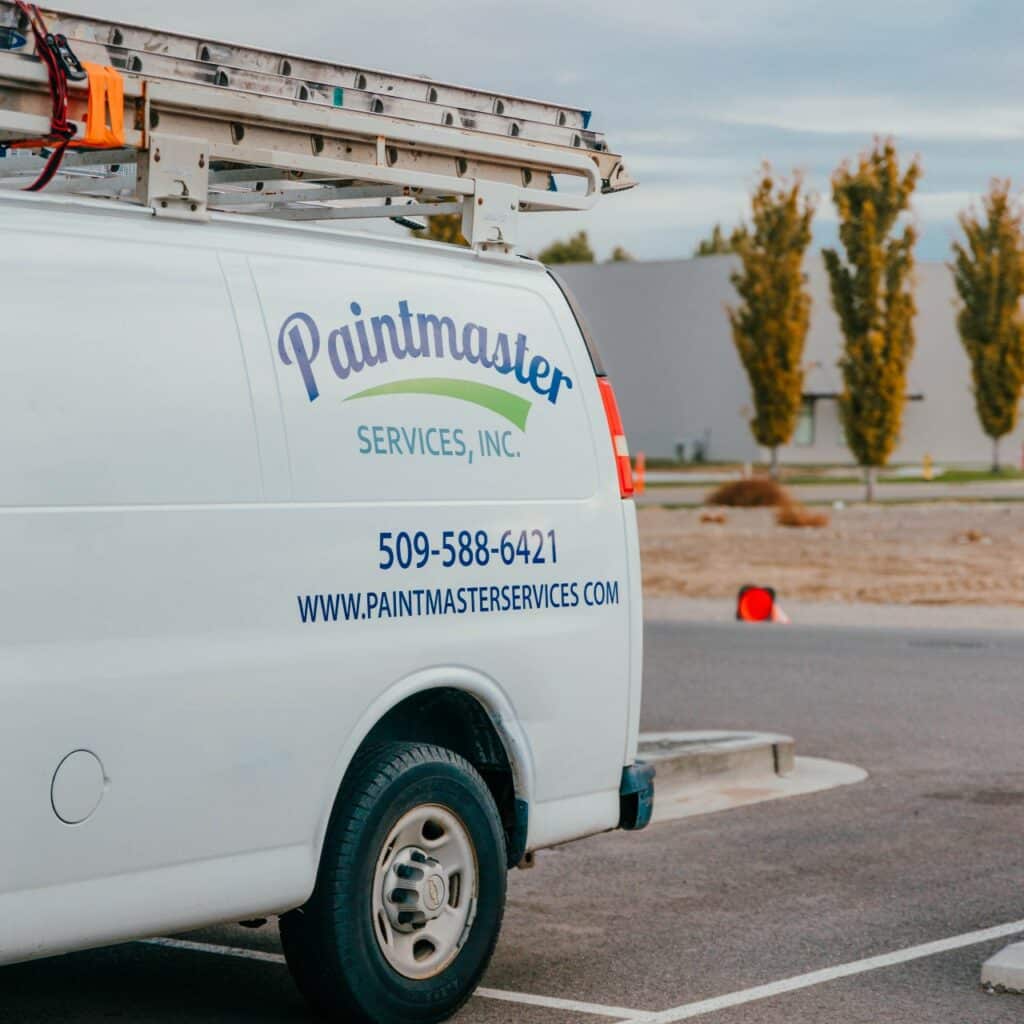 Don't Forget About Humidity When Painting Outside
Humidity is a significant concern when completing an exterior painting project. Most experts will state that humidity should range between 40% to 50% to aid the drying rate and prevent brush stroke marks. Unfortunately, the Tri-Cities suffer from very little humidity, so you will want to speak with your painting professional on how best to address your painting project.
Hire Paint Masters for Your Exterior Painting Project
Paint Masters is your trusted Tri-Cities exterior residential and commercial painter. Our exterior painting service offers the same expertise and attention to detail that you would find on an interior project, with the addition of pressure washing, caulking, and minor siding repairs as needed. Are you curious how much your next exterior paint project will cost? We recommend our FREE residential paint budget calculator to estimate the costs. Ready for a quote? Request a free estimate from our team today.