The kitchen is often referred to as the heart of the home. It's where meals are prepared, families gather, and memories are made. As such, keeping your kitchen updated and aesthetically pleasing can significantly influence both your home's value and your well-being. In the era of Pinterest and Instagram, the desire for a picture-perfect kitchen has never been more prevalent. Yet, the idea of a complete kitchen renovation can be daunting, both in terms of time and money. That's where cabinet painting comes into play. Kitchen cabinet painting is a game-changer, offering a quick and cost-effective alternative to full-in cabinet replacement that can dramatically alter the look and feel of your kitchen.
The Benefits of Kitchen Cabinet Painting for Your Home Interior
#1: Far More Cost Effective Than a Full Remodel
One of the major advantages of cabinet painting is its cost-effectiveness. A complete kitchen remodel can set you back tens of thousands of dollars, but cabinet painting is a fraction of that cost. You can save considerable money while still achieving a fresh, new look. If your cabinets are structurally sound but just need an aesthetic update, then painting them is a financially savvy option.
#2: A Faster & Less Disruptive Turnover
Another benefit of kitchen cabinet painting is the quick turnover time. Unlike a full kitchen renovation, which may take weeks or even months, cabinet painting can often be completed in a matter of days. This means less disruption to your daily life and quicker enjoyment of your updated space. If you're on a tight schedule or simply impatient to see your kitchen's transformation, cabinet painting offers a speedy solution.
#3: A Wide Array of Design Options
Cabinet painting also provides incredible versatility in design options. Whether you want a bright, modern look or a darker, more classic appearance, there's a paint color and finish for you. You can even opt for techniques like distressing or faux finishes for a more unique and personalized touch. This customization allows your kitchen to reflect your style and preferences in a way that is not always possible with pre-fabricated cabinets.
Step-by-Step Process of Professional Cabinet Painting
Step 1: Consultation and Assessment
The first step in any kitchen cabinet painting project is the consultation and assessment phase. At this point, professionals evaluate the condition of your cabinets to determine the best approach. They discuss your design preferences and help you choose a paint color and finish that aligns with your vision for the space.
Step 2: Quotation and Scheduling
After the consultation, you will receive a detailed quotation outlining the project scope, materials needed, and cost estimates. Once you agree to the terms, scheduling will be arranged to fit into your timetable, minimizing your overall inconvenience.
Step 3: Material Selection
Choosing the right paint and primer is crucial for long-lasting results. The type of wood, the existing finish, and your desired look all play a role in material selection. High-quality paints and primers are typically recommended for a durable and beautiful outcome.
Step 4: Preparing the Cabinets
Before any paint is applied, the cabinets need to be thoroughly prepared. This involves cleaning, sanding, and repairing any minor imperfections to ensure a smooth painting surface. Doors and hardware are usually removed during this step for a comprehensive treatment.
Step 5: Priming the Cabinets
Priming is the next essential step in cabinet painting. A suitable primer provides a solid base for the paint, ensuring better adhesion and a more even finish. It also helps in covering any existing stains or darker colors.
Step 6: Let the Painting Begin!
After priming, the actual painting begins. This usually involves multiple coats to achieve the desired richness and durability of color. Specialized brushes and rollers are often used for a streak-free, professional finish.
Step 7: Drying Time
We don't suggest watching this step, as it doesn't get much more boring than watching paint dry. However, each coat of paint needs adequate drying time before the next is applied. Skipping or rushing this step can result in an uneven finish or make the paint more susceptible to chipping and peeling.
Step 8: Reassembly and Cleanup
The cabinets are reassembled once the paint is fully dry and the hardware is reinstalled. Any protective coverings are removed, and the work area is thoroughly cleaned, leaving your kitchen spotless and refreshed.
Step 9: Final Walkthrough of Your New Kitchen!
The last step involves a final walkthrough with the customer to ensure satisfaction. Any minor touch-ups or adjustments are made at this point to guarantee that the project meets your expectations.
PaintMaster Services' Kitchen Cabinet Painting
When it comes to kitchen cabinet painting, not all services are created equal. At PaintMaster Services, we pride ourselves on setting the industry standard for quality, experience, and integrity.
With over 45 years of professional painting experience, we've mastered the business of providing top-notch painting services in the Tri-Cities and surrounding areas. Our team of skilled craftsmen knows the ins and outs of cabinet painting, ensuring that every project we undertake is completed to the highest standard.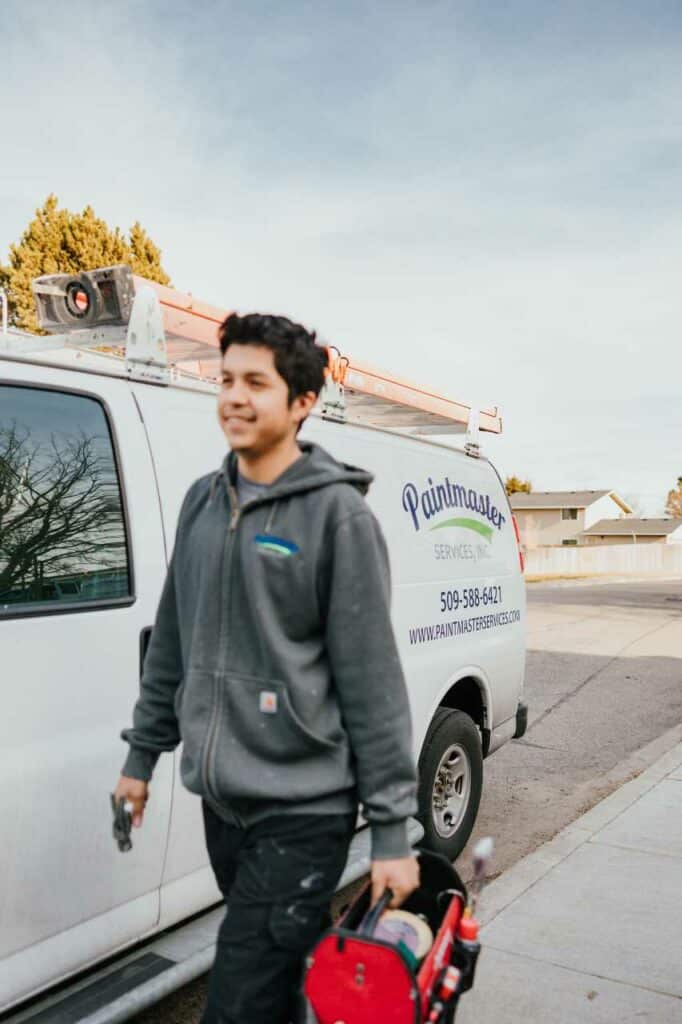 Quality is not just a buzzword for us; it's a commitment. We use only the best materials and techniques in our kitchen cabinet painting projects. This focus on quality has earned us an outstanding reputation in the community. To underscore our commitment to excellence, we back every job with a satisfaction guarantee.
Finally, as a family-owned business spanning two generations of professional painters, we place immense value on integrity. We believe in building lasting, mutually beneficial relationships with our customers and employees. When you choose Paintmaster Services for your kitchen cabinet painting needs, you're not just hiring a contractor but becoming part of a community that prioritizes honesty, respect, and true craftsmanship.
Whether you're a homeowner looking to spruce up your kitchen or a DIY enthusiast eager to tackle a new project, Paintmaster Services has the expertise and integrity to transform your space beautifully and efficiently.
Transform Your Kitchen with Cabinet Painting with PaintMaster Services
At the end of the day, cabinet painting offers myriad benefits for anyone looking to revitalize their kitchen without undertaking a full-scale renovation. From its cost-effectiveness and quick turnover time to its versatility in design choices, kitchen cabinet painting is a game-changing option.
Ready to Transform Your Kitchen Without Breaking the Bank?
If you're intrigued by the transformative power of cabinet painting, Paintmaster Services is here to guide you every step of the way. With our seasoned expertise, focus on quality, and commitment to integrity, we offer unmatched value in the Tri-Cities and surrounding areas.
Contact Paintmaster Services today for a consultation and free estimate on your kitchen cabinet painting project. Let us help you turn your kitchen into a space that not only serves functional needs but also reflects your personal style and enhances your home's overall value.