Is your kitchen in need of an update? Embarking on a kitchen redesign can be an intimidating process. These spaces are renowned for being the most expensive room in any home to renovate. It is a risk to invest so much money and time into a project that ultimately might not increase your home's value to the same degree. However, there is a straightforward step you can take to dramatically change the look and feel of your room – kitchen painting!
Interior painting is one of the least expensive ways to update your home aesthetic. It is an easy and short renovation compared to projects like tiling, replacing flooring, or reorganizing the structure of your space. If you want to sell your home soon, you need to know what buyers are looking for. An updated home, especially in the kitchen and bathrooms, is some of the major draws for potential buyers. Even without changing anything else, repainting a portion of your kitchen can help change the feel by decades. Read on for ideas on kitchen painting projects that will increase your home value!
5 Ways to Refresh your Kitchen's Aesthetic
1. Repaint Your Old Kitchen Cabinets
As the primary feature in any kitchen, cabinets dominate the space. If your cabinets look drab and outdated, your kitchen will feel older and tired, no matter what new appliances you have. However, this doesn't always mean they require a total replacement. Simply repainting your cabinets and changing the hardware can dramatically change the aesthetic of your kitchen and is much cheaper! If you are selling your home, giving your cabinets a new coat of paint can increase the value significantly and provides an excellent return on investment. It is also a simple project that is easily completed in a short amount of time!
2. Refresh the Walls for a Clean Aesthetic
Even if you are listing your home in a seller's market or highly sought-after area, there are a few things you can do to improve its value and increase your asking price immediately. Realtors everywhere agree that kitchens sell homes, and almost any improvement on your kitchen will see a return on your investment. However, kitchens are one of the most heavily used rooms in your home, and your walls probably have a bit of wear and tear. To look presentable for resale, you should patch any holes and select a new color to refresh your space. Choose a light color for your kitchen – this makes the room feel larger, softer, and more neutral – a home that anyone could imagine themselves living in and loving!
3. Change Your Ceiling to Add Extra WOW
A new coat of paint doesn't have to be contained to the walls! Painting your ceilings is an interior painting project that can make a difference to the overall aesthetic of your kitchen. Ceilings are one of the most easily damaged surfaces in your home. They take the brunt of any roof damage or pipe leaks between your floors, often resulting in water marks, stains, or other damage. Tobacco smoke, cooking containments, or frequent wood-burning fires can also damage the color of your ceilings, leaving them dingy and dirty looking. This might not be noticeable to you, but it will be to potential buyers! Painting your ceiling is essential to give your kitchen a fresh, clean, turnkey appearance. Plus, it can be an unexpected way to accent your space if you choose a complementary shade!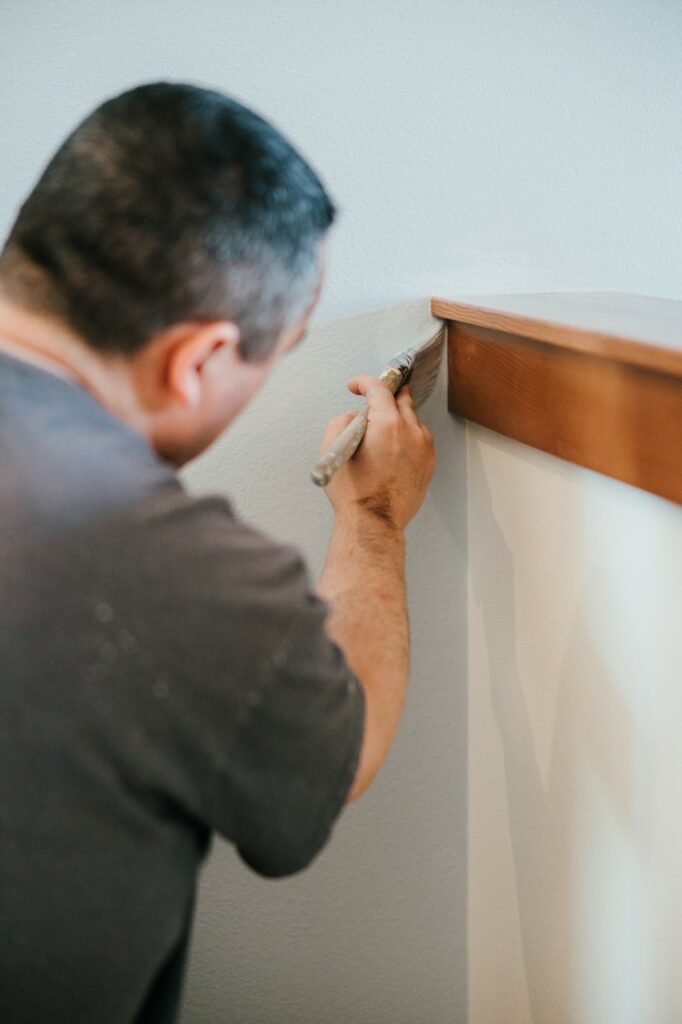 4. Tidy Up the Trim as a Small Bonus
If you've lived in your home for a while, it's likely been well-loved; subsequently, it might be a bit well-worn. Although patching up your walls might seem obvious, one of the more neglected areas that suffer a lot of damage is the trim in your kitchen. Your baseboards, door casings, and even light switch covers can be some of the most scuffed-up surfaces in your home. Often, homeowners don't realize what power a new coat of paint will have on these details. Select a semi-gloss paint for this interior painting project, and get ready for some serious results! Refreshing your trim is a kitchen painting project that completes a put-together vibe.
5. Add an Accent for a Pop of Color
If you don't want to take on a major interior painting project, you can still transform your kitchen by focusing on a single wall or even one object. Accent walls or furniture pieces can create an intriguing, unexpected focal point in an otherwise ordinary room. They can liven up a space and make it memorable for potential buyers. It is challenging to calculate the return on investment or increase in home value for adding an accent in your kitchen. However, it can be a simple move that updates your kitchen. Adding a different, complementary color to your space can elevate your aesthetic – giving a polished, styled, intentionally designed look. This can set the stage for selling your home – but remember, less is more! Potential buyers prefer neutrals that allow them to imagine themselves in the space. Adding gray, light blue, or warm tones of beige and off-white are popular kitchen paint colors and accents.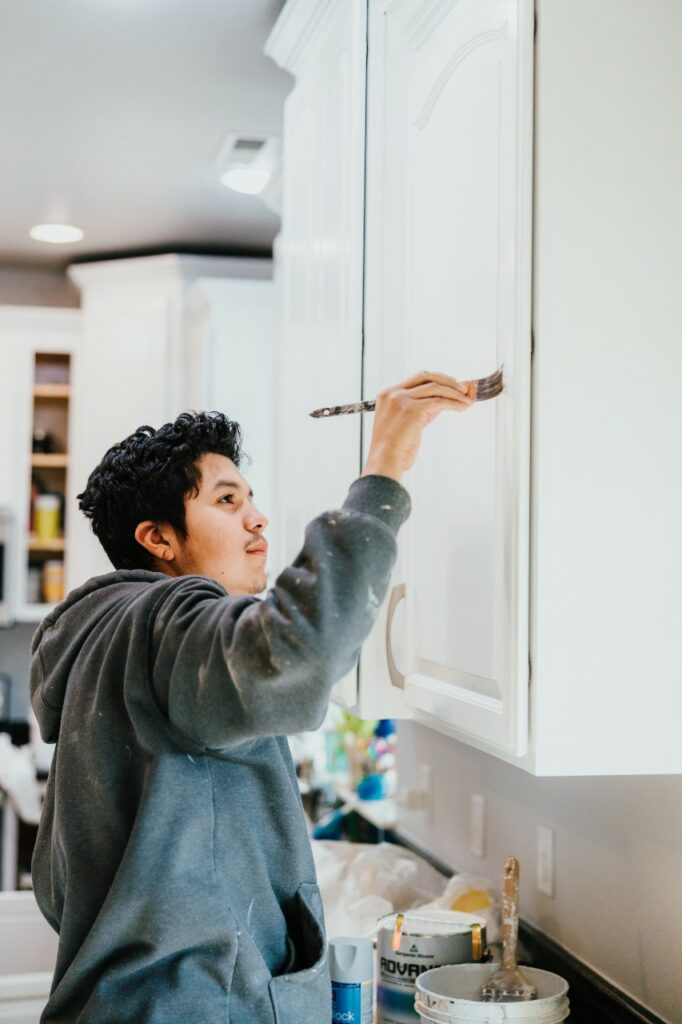 How Paintmaster Services Can Help Repaint your Kitchen
Are you interested in a kitchen painting project in the Tri-Cities, Washington, area? Paintmaster Services is here to help! We have years of experience in all types of interior painting projects. If you want to change the color of your walls, cabinets, or ceilings, we have an answer to your painting needs! Even if you are still trying to figure out what to do with your space, our experienced painters can help make recommendations for your home, goals, and budget. Our painting pros are timely and professional and ensure your project is completed seamlessly and stress-free. Visit our website to check out our services or get a free estimate for interior residential house painting. We can't wait to work with you on your home improvement journey!