The kitchen is the heart of every home, and its aesthetic sets the tone for the rest of the house. Kitchen cabinets are not just functional storage spaces; they are the dominant feature in the room. A well-painted cabinet can transform your kitchen into a haven of elegance and style. However, many homeowners face a dilemma when redoing their kitchen – how do you decide between DIY cabinet painting and hiring a professional for this crucial task? 
Do-it-yourself projects have many perks and can be a fun challenge. However, so does employing a company to care for your professional cabinet painting needs from start to finish. Read on for a deep dive into the pros and cons of DIY cabinet painting vs. choosing professional services. By the end, you'll clearly understand which is best for your cabinets and kitchen refresh!
Pros and Cons of DIY Cabinet Painting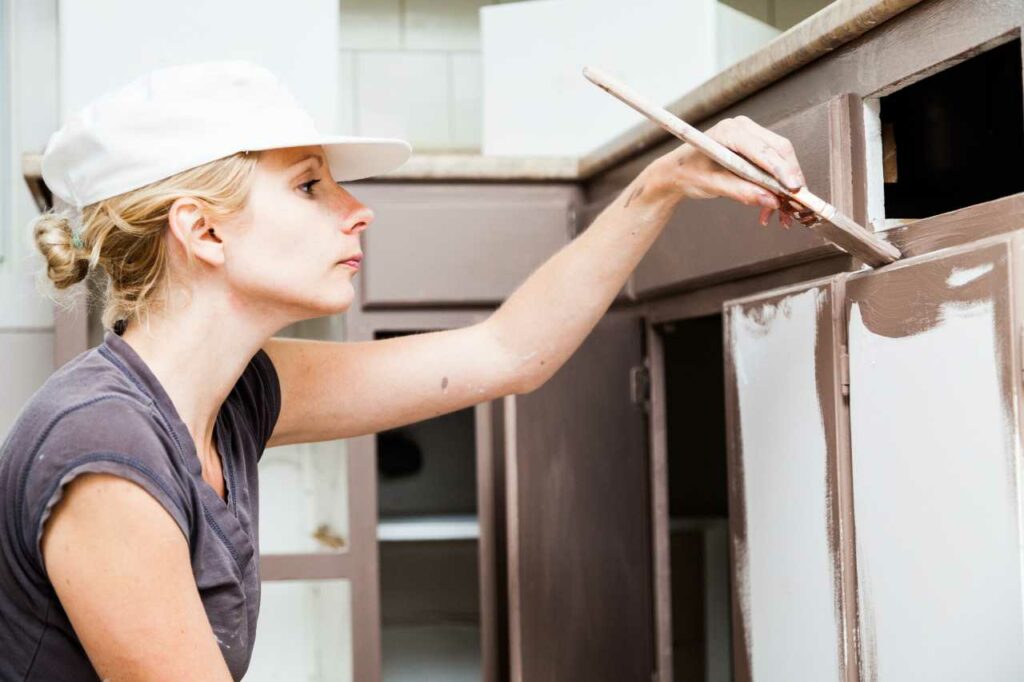 If you're considering starting your do-it-yourself project, there are several factors to consider. First, let's talk about the advantages of DIY cabinet painting.
1. DIY Can Save You Money
One of the primary reasons homeowners consider DIY projects is to save money. DIY can be budget-friendly – you can choose each tool yourself and won't have to pay for the most costly part of any job – labor. You can shop for supplies, paint yourself, and do the project when you find the best deals.
2. You Get Personal Satisfaction
Completing any home improvement project yourself, mainly a big undertaking like a DIY cabinet painting project, can be personally fulfilling. You can take complete control of the creative process and take pride in the results of your hard work. Plus, you get to learn new skills while you work!
3. Flexibility Around Your Schedule
Doing home improvement yourself allows you to work on your schedule. You can tackle the project during your free time, making it convenient for your busy life – for example, you can work in the kitchen when you know you will be eating out frequently, rather than having your life wholly upended trying to work around a team of professionals.
Despite these advantages, DIY projects often have a few drawbacks as well:
1. Greater Potential for Mistakes
Cabinet painting is a meticulous job that requires skill and precision. Unlike plain walls, cabinets have many edges, sides, and grooves that can make them more challenging to paint. DIYers may encounter issues like uneven paint application, streaks, or drips and need help fixing their mistakes.
2. Larger Time Investment
Painting cabinets is a time-consuming endeavor. You must clean your cabinets, sand, prime, and then paint at least two coats of color. DIYers often underestimate the time it takes to complete the project correctly. This can be an issue for those with busy lives or those looking to get this project done quickly.
3. Lack of Professional Finish
Achieving a professional painting finish is not easy for beginners. DIYers may struggle to attain the flawless, smooth, and durable finish that professional painters can provide with their steady hand and years of experience.
Pros and Cons of Professional Cabinet Painting
Hiring a professional interior painting company might be the right choice for your kitchen project. Here are a few of the advantages of employing the pros: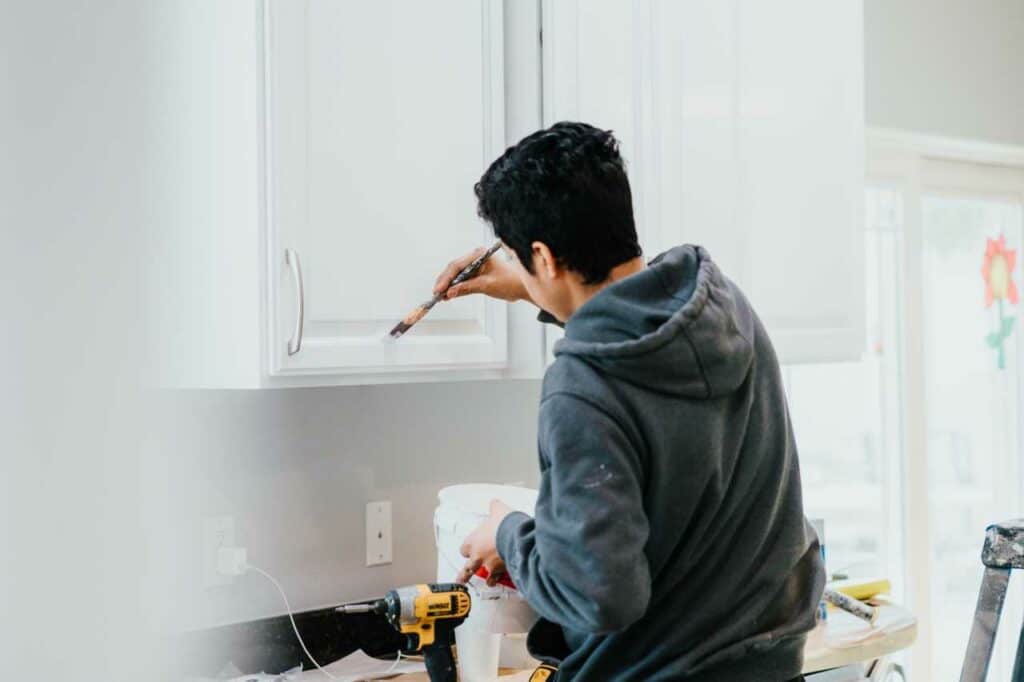 1. You Get Expert Quality
Professional cabinet painters have the expertise and experience to deliver outstanding results. Their years of practiced movements, attention to detail, sharp eyes, and high-quality tools ensure your cabinets are prepped, painted, and finished perfectly. 
2. Faster Project Completion
Painters work efficiently and can complete your professional cabinet painting project much faster than even the most enthusiastic DIYer. This means less disruption to your daily life, less hassle, and decreased time your kitchen is out of commission. 
3. Achieve A Professional Finish
Professional painters can access high-quality paints and materials and know which brands suit particular applications. This results in a durable, professional finish that will stand the test of time. 
While hiring a professional interior painting company can fulfill many needs, there are a few disadvantages:
1. Potentially Higher Initial Costs
Hiring professionals comes at a price – you are paying for professional labor, but you also get a contractor deal on materials, and painters come with their own tools. Overall, the quality and longevity of the work and finish often justify this investment.
2. Encountering Scheduling Constraints
Professional painters are a game-changer to any interior painting job – because of this, companies and individuals are often in high demand. It may initially delay your project by a few weeks or months, and coordinating with a professional's schedule may require some flexibility to accommodate their availability.
Why Choose Paintmaster Services?
At Paintmaster Services, we excel in providing professional cabinet painting services that elevate the aesthetics of your room and home. Choosing us for your painting needs is a wise decision for many reasons. Our team of skilled painters has years of experience in cabinet refinishing and painting. We deeply understand wood types, paint selection, and the techniques and layers required to achieve exceptional results. We use only top-quality paints and materials, which ensures a long-lasting and beautiful finish that can withstand the heavy use of daily wear and tear in the heart of your home. 
At Paintmaster Services, we prioritize our clients. We work closely with you to understand your vision and preferences and work diligently to achieve your aesthetic and bring your ideas to life. Our professionals work efficiently to minimize disruption to your daily routine. We complete our projects promptly while maintaining the highest quality standards and a flawless, professional finish. We take pride in our attention to detail and commitment to excellence.
In the battle of DIY vs. professional cabinet painting, it is clear that professional services have the upper hand. While DIY may seem initially cost-effective, the potential for mistakes, time investment, and lack of professional finish can outweigh the benefits. Investing in professional cabinet painting guarantees expert quality and finishes and saves you time and hassle. When weighing your options, remember that your kitchen deserves the best, and the professionals at Paintmaster Services are here to deliver the results you desire. 
How Paintmaster Services Can Help
Are you unsure whether to go DIY or hire professionals for your cabinet painting project? Paintmaster Services can help! Our team of dedicated professionals has years of experience creating the perfect interior painting solutions for every type of space. We will help you transform your kitchen by achieving your dream cabinets! Contact Paintmaster Services for expert advice and a free consultation to help you decide the best way forward for your home!